6,000 mg Collagen Type 1 &3

Hair, Skin, Nails, Joints, & Bones

Clinically Tested NeoCell Collagen

92% had Increased Skin Hydration†

Non-GMO + Gluten Free

Dietary Supplement

Healthy Joints

Radiant Skin

Healthy Bones

GMP Certified

Strong Hair & Nails
Collagen is a complex structural protein that maintains strength and flexibility throughout the body. As we age, collagen depletion can lead to common signs of aging in the skin, hair, nails, muscles, tendons, ligaments, and bones. Super Collagen contains clinically studied BioActive NeoCell Collagen which supports healthy collagen formation throughout the body. Using NeoCell's technologically advanced hydrolyzation process, large collagen molecules are enzymatically hydrolyzed into small peptides that are both bioavailable and bioactive in the body.
Clinical Results: NeoCell Collagen has been shown to increase skin hydration by an average of 21% and up to 50%, with 92% of test subjects experiencing increased skin hydration and 60% experiencing firmer, softer skin.†
†Based on NeoCell Collagen 2014 study
Suggested Use
Take six (6) tablets daily. For maximum absorption, take on an empty stomach.
Other Ingredients
May contain vegetable magnesium stearate.
Does Not Contain: Gluten, soy, wheat, lactose, starch, yeast, or artificial flavors.
Allergy Warning: May contain trace amounts of naturally occurring sulfite residue.
Warnings
Keep out of reach of children. As with any supplement, if you are pregnant, nursing or have a medical condition, consult your doctor before using this product.
Supplement Facts
Serving Size: 6 tablets
Servings Per Container: Approximately 42
Amount Per Servings
% Daily Value**

Vitamin C (as Calcium Ascorbate)

60 mg

100%

BioActive NeoCell Collagen

6,000 mg

†

**Percent Daily Values based on a 2,000 calorie diet
† No Daily Values Established.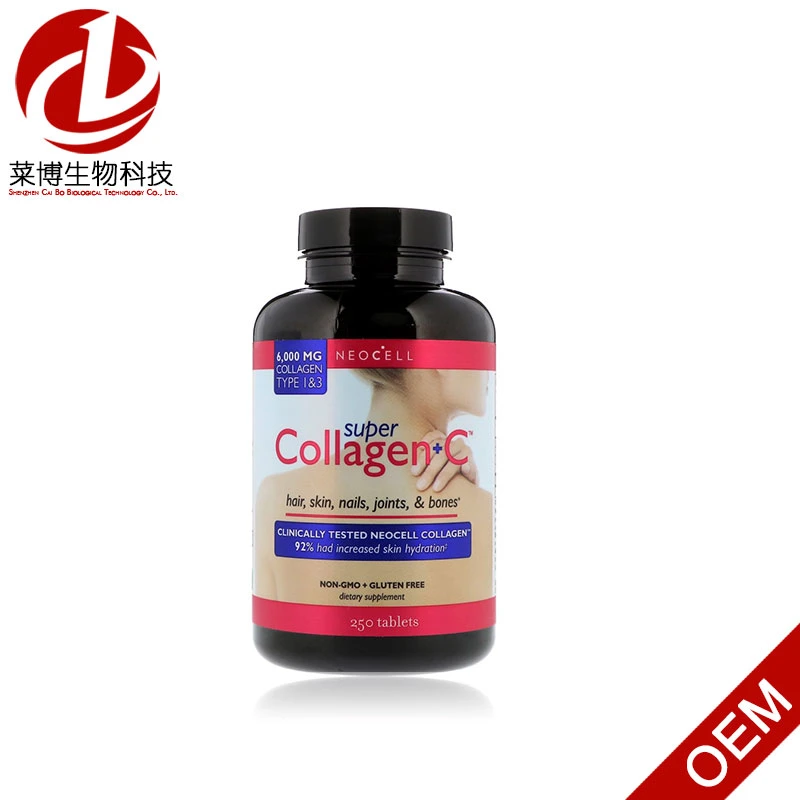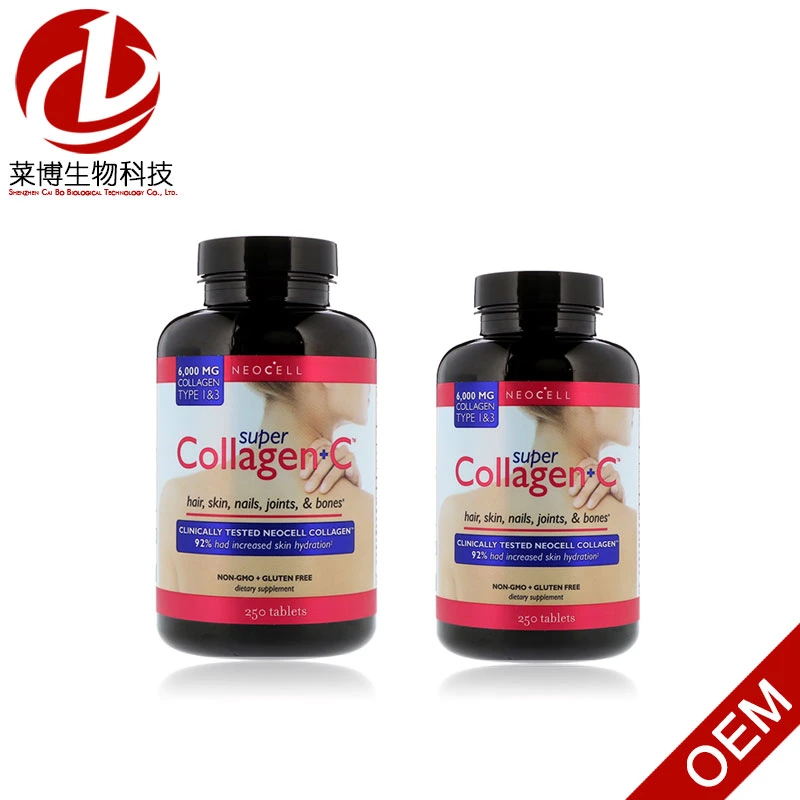 FAQ:
1. Q:What is the normal lead time?
A:we will send goods to you within 5-7 days after receiving your payment.
2.Q:Could I get a sample before placing order?
A: Sorry, we could not provide sample. But we suggest that you could place a trial order. MOQ for trial order is only 50 boxes.
3.Q:What are the terms of payment you offer?
A: We accept payment of T/T, Money Gram,Western Union and so on.

*We can offer you various capsules,powder,oil,or other herbal extract.
*For further information,pls do not hesitate to contact us,hope can help you more and expect your kindly support!