Grape seed extracts are industrial derivatives from whole grape seeds that have a great concentration of vitamin E, flavonoids, linoleic acid, and OPCs. Typically, the commercial opportunity of extracting grape seed constituents has been for chemicals known as polyphenols, including oligomeric proanthocyanidins recognized as antioxidants.
Grape seed extract clearly possess remarkable antioxidant properties. Their effects on reducing free radical damage and oxidative stress suggest that they may be particularly effective in reducing the risk of cancer, cardiovascular disease and a number of the chronic diseases associated with aging. Researches indicated that GSE was effective in promoting cytotoxicity (cell death) in the cancer cells, but that the growth and viability of the normal cells was maintained, Another cell study examined the effects of GSE on preventing the cell damage, DNA damage and cell death that occurs when cells are exposed to tobacco. The results showed that tobacco exposure causes oxidative tissue damage and apoptosis (cell death), which can be reduced by 10-85% by antioxidants such as vitamins C and E and grape seed extract. GSE was about 2-5 times more effective than vitamins C or E alone and the combination of the vitamins with GSE is even more effective in preventing cell damage and death.
English Name: Grape Seed Extract
Botanical Name: Vitis vinifera
Used Part: Seed
Active ingredients : Polyphenols; OPC(Oligomeric Procyanidins) ; Vitamin E, Flavonoids, Linoleic acid
Specification: 95% OPC
Test Method: UV,HPLC
Appearance: Fine Red Brown Powder
CAS No.: 84929-27-1
Molecular Formula: C30H12O6
Molecular Weight: 468.42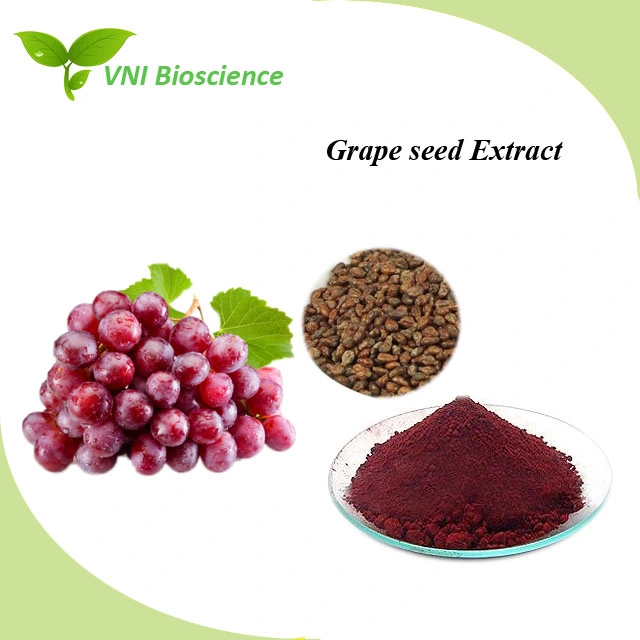 1. With the function of laxation, which will facilitate water.
2. With the function of relaxating muscle.
3. With the function of antibacterial, such as inhibiting staphylococcus aureus, salmonella typhi and escherichia coli.
4. Increasing platelet and fibrinogen, which will help stop bleeding.