Grape seed is the seed of the grape, which is dried and then separated from the grape skin and the grape stem. Grape seed is rich in amino acids, vitamins and minerals, and has the functions of health care and beauty. Grape seeds contain polyphenols (GPS), mainly catechins and proanthocyanidins. The catechins, including catechins, epicatechins and their gallic acid esters, are the major monomeric components in grape seed and the constituent units of proanthocyanidin oligomers and multimers. Grape seed extract is one of the most potent antioxidants found by plants to date. In vivo and in vitro tests have shown that grape seed extract has an antioxidant effect 30-50 times that of vitamin C and vitamin E and is widely used in health care. Products, pharmaceuticals and cosmetics industry.
Product Name: Grape Seed Extract
Latin name:Vitis vininfera L.
Using Part: Seed
Appearance: Reddish-Brown fine powder
Odor: Characteristic
Active Ingredients: OPC (Proanthocyanidins)
Specification: 95% UV
Extract Solvent:Ethanol&Water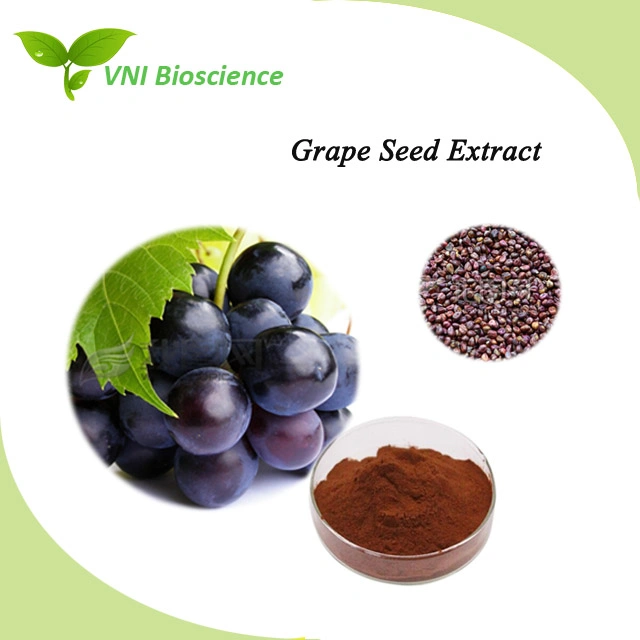 1. Anti-oxidation
Grape seed extract is a new type of highly effective natural antioxidant that cannot be synthesized from grape seeds. It is the most powerful anti-oxidant and free radical scavenging material found in nature. Its antioxidant activity is 50 times that of vitamin E and 20 times that of vitamin C. It can effectively remove excess free radicals in the human body. Strong delay in the role of skin aging.

2. Tightening skin
Grape seed extract can effectively promote the moderate cross-linking of collagen, maintain the smoothness of the skin, block the production of protease and inhibit its activity, and keep the skin elastic, thus improving the health of the skin.t against the free radicals that cause aging, and have certain antioxidant properties.